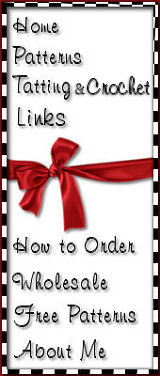 On March 30 1994 Heisler's Creative Stitchery was started. First came a mailorder catalog of tatting, cross stitch, silk ribbon, and Brazilian embroidery supplies. Then came a small newsletter and publishing my own patterns. My web site went up in 2002 and since then there have been many changes to the business. The biggest was dropping the embroidery supplies and cutting back on most tatting supplies. You'll still find a few things being sold off at either the esty or ebay stores when I take the time to list them.

I have always sold supplies for tatting and at one time carried all types of shuttles. I've found my best seller is the Aero shuttle and try to keep it in stock but that doesn't always happen. If you want Tatsy, Clover, bone, shell, metal, or some other kind of shuttle please send me a message. I'll let you know if I can get them and what the price will be. The same goes for books on tatting and DMC threads.

On January 31, 2006 I opened my ebay store. I no longer have one there but I do continue to sell dolls as auction listings. I mostly make dolls for Easter, Halloween, and Christmas but you'll find mermaids and other kinds of cloth dolls year round.

I opened the etsy store in 2008 and love the site. The etsy store is open all year because they have very low fees. It's a much nicer place to sell at with less grief than you get at ebay. This is the place to go if you are looking to buy anything handmade. The last site I listed above is Patternspot. It's a PDF only site run by C&T Publishing. They are best known as publishers of quilting books. You'll find links for every pattern I sell to my Patternmart store. There you will find PDFs and printed versions for sale.

I have been very lucky to find web sites that would sell my patterns for me. Cloth Doll Patterns and Dollmaker's Journey sell a small assortment of my patterns.