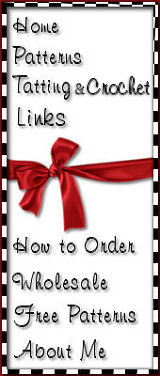 January 2019

Happy New Year!

Yay! I finally sat down and finished the updated directions for the crocheted chatelaine. I love the new version I made in size 3 Lizbeth thread. The pattern has directions for both the original size 10 and the new size 3. There is also a new item on the neckband, a thimble holder!

Since I'm in the mood for writing I'm starting on the directions for the new elephant pincushion. It's SOOOOO cute.

You can buy downloads of my patterns at Patternmart and Etsy. If you want a pattern and it's not listed please convo me at Etsy and I'll get a listing up for you.

Thought I should let you know I'm no longer using the yahoo email you'll find on some of my patterns. With all the hacking going on there I just decided to let it go. If you need to contact me the best way is to convo me at etsy (1creativestitches) or message me at ebay (creativestitches). You can email me at my hotmail account (bjh150) but there's a good chance it would be marked as junk. If you try the email address and don't hear from me try one of the other ways.

If you've been to my blog you know that's where my domain name now takes you. I know tripod is a pain with all the pop ups. I'm sorry but other than the free patterns and links there's not much else here.

I designed a pincushion pattern that you'll find at Patternmart and Etsy. It's a felt bear sitting on a pincushion that's attached to a container that can be used to hold buttons or other items. Dollmaker's Journey is selling it now, too.
A note about Dollmaker's Journey. MaryAnn sold the business to the Phalens. Paul recently decided to carry the pincushion pattern and 2 of my tatting patterns. Look for the Spring and Summer ones. Dollmaker's Journey carries some but not all of my cloth doll patterns.

Look for my new mermaid and seashell pattern at my Etsy store and at Patternmart. This is an updated version of the old mermaids and shells pattern but only has one mermaid and shell. There are a lot of new things about this version. She has wool hair cut from a mohair skin, the tail is slightly different in shape and has wire sewn to it so you can shape it however you like, and of course the way she is dressed/decorated is different. The shell is larger and is decorated different, too. I made her in orange batik for a gold fish look but she's pretty in any fabric.



I have a new crochet pattern up at my Etsy store. Look for Crochet Lucky Penny Shamrock. This is a cute way to give a good luck charm to a friend. Use a penny with a date that's special to them. It's pretty easy to make but you do need to know how to crochet since I don't give those kind of directions. This pattern is only available as a PDF download because I wanted to keep the price low. With all the photos I would have to charge a lot more than 3.50. There's also a Flower Pattern that would be nice for brides. Put a lucky penny from the year the couple met and from the year they marry for double luck!





You can now buy Handy Hands version of my Tatting Old Fashioned Quilt Patterns called Tatted Quilt Squares at my Etsy store and at Handy Hands. It's glossy and has full colored photos and charts. As of Nov. 2015 Handy Hands placed my book at Hobby Lobby stores. I don't know how long they'll carry it so if you have a local store look for it.



I've been listing favorite things at Pinterest. Have you been there yet? It's a great place to get lost in. I easily lose hours going from board to board.



I've finished updating all the pages here. To buy anything I sell you'll find links to the places I sell at. I no longer sell directly because it's so much easier to sell thru places like Etsy and Patternmart where they have automated check-out.
PDF's are available for all of my patterns. They are at the Patternmart site, some are at Etsy, and I try to list some at ebay. If you don't want to buy at Pattermart let me know and I can put up a listing for you at Etsy or Ebay.



I made a free pattern! It's a cloth basket that's perfect for tatting supplies, though I've also used mine to hold small crochet projects and I have one for small sewing projects. Look for the link on the free patterns page. Oh, this one is a PDF file so you'll need a reader like Adobe to open it.

If you ever get one of my patterns and it's missing pages please contact me. If you send an email and don't hear from me it may be that it has been caught with my spam filter. Please try to contact me by calling, writing, or thru my ebay or etsy stores.